---
Veľmi som sa do Toskánska tešila.  Milujem víno, cestoviny, zmrzlinu a pizzu a táto krajina vám všetko toto ponúka v tej najlepšej domácej kvalite. Tešila som sa na more, na slnko, vinice, staré tehlové mestečká a úplne najviac na svadbu pod Toskánským slnkom, na ktorú sme boli pozvaní a vďaka pozvaniu naplánovali celú našu dovolenku.
Ako je už u nás zvykom nebudeme na jednom mieste  celý týždeň a bola by to aj škoda nevyužiť vidieť toho viac a vychutnať si krásy Toskánska. Takže od začiatku nekonkretizujem jedno mesto, ale spomínam celú oblasť.
Cestu autom sme si rozdelili na dva dni a ten prvý prespali v Lignano Sabbiadoro, trošku si tam užili more teda hlavne Natálka a ich krásnu promenádu, kolotoč i fontánu, dobre sa napapali a oddýchli a na druhý deň pokračovali v ceste.
Na radu priateľov bolo mesto San Gimignano  naša druhá zastávka už v samotnom Toskánsku. Ach poviem vám bola to krása. Mali sme výhľad na celé mestečko … len som rozprestrela ruku a mala som ho na dlani v celej paráde. Všade vinič, olivy, citrusy a figy … ticho a nádherný západ a východ slnka … niečo tak krásne sa vidí len vo filmoch a my sme to tam mali možnosť zažiť. Mimochodom San Gimignano je inak nazývané aj "Taliansky Manhattan," tvorí ho presne 15 veží. Kamenné mestečko, plné maličkých reštaurácií a kaviarní a z každého kúta omamná vôňa kože a syra.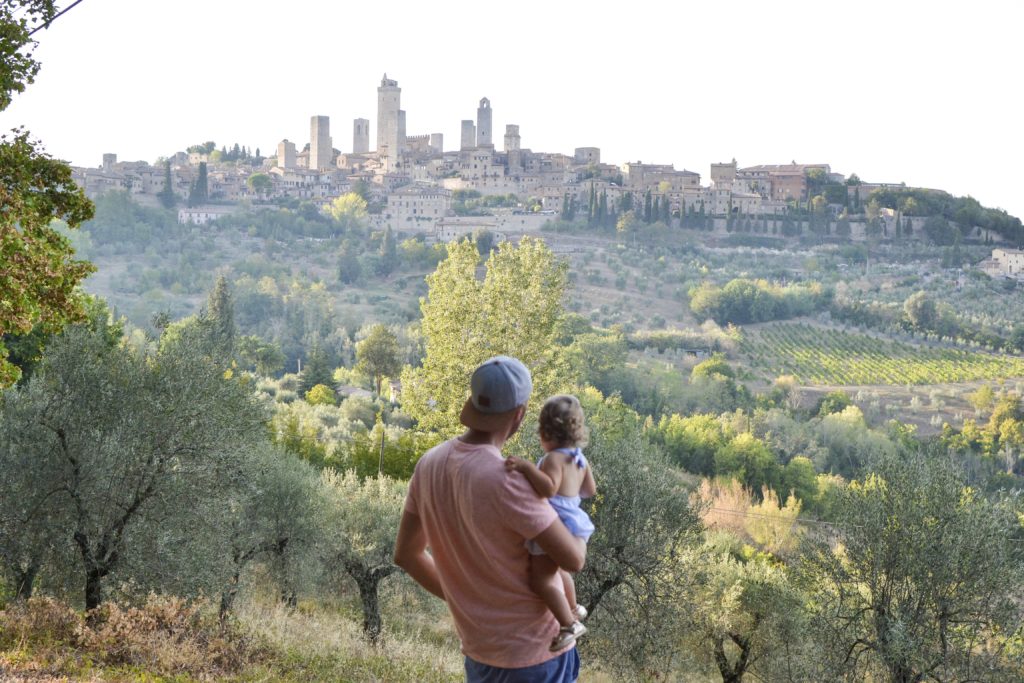 Nasledujúci deň náš už čakala len párminutová cesta na miesto diania svadby. Miesto, kde sma strávili 4 dni a mali možnosť byť súčasťou rozprávkovej svadby dvoch krásnych ľudí. Villa Castignano je niečo neskutočne krásne !!! Tam nepotrebujete nič len stáť a kochať sa … prostredím, výhľadom, každou lavičkou a stromom. Obrovská hacienda, ktorá je ozdobou celej svadby a všetkého  s romantickou svadbou pod toskánských slnkom spojeného. Ach ja som stále tam … nedokážem sa akosi ani preniesť nazad do reality .. nikdy som nič tak pekné nezažila. Tá atmosféra, jedlo, ľudia, pohoda a smiech, priatelia a rodina … mala som vopred veľké očakávania a vedela, že to bude nádherné, ale že to bude pre mňa až tak hlboko nezabudnuteľná spomienka som naozaj netušila. Bola to naša prvá svadba ako rodiny … Natálkina prvá svadba … a všetko bolo tak krásne a nezabudnuteľné. Mám veľkú radosť, že sme tam mohli byť a zažiť si rozprávkovú svadbu v Toskánsku.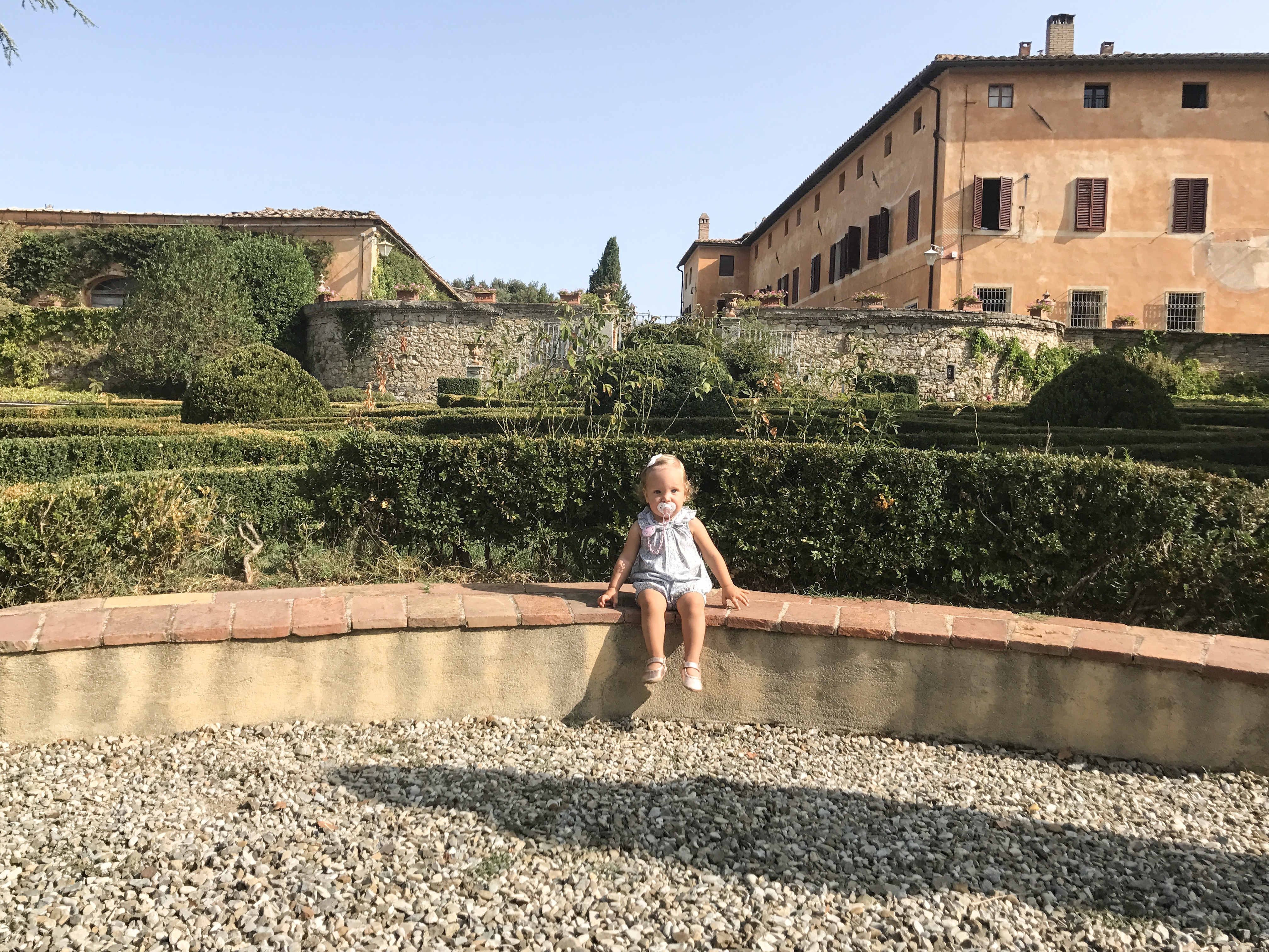 Mesto Siena sme si prešli počas dňa. Prechádzali sa uličkami, kde bolo vždy aspoň trošku tieňa, Natálka si užila nadherný kolotoč, dala poobedný spánok, my obed a zmrzlinu. Videli sme najznámejšie miesto Sieny a to námestie Pizza del Campo, známe každoročnými dostihmi Palio, ďalej katedrálu Siena a Baziliku dell'Osservanza. Ja mám pre tú ich  úžasnú architetúru katedrál veľmi veľkú slabosť. Nie som ten typ turistu čo musí podrobne vidieť každú jednu pamiatku,  stačí mi sa pozerať hore na tú nádheru v plnej svojej kráse. Užili sme si to tam, oddýchli a pokračovali v ceste smer FLORENCIA.
Samotné srdce Toskánska a dve noci strávené tam.  Naše prvé kroky viedli  okolo Palazzo Pitti na slávny most Ponte Vecchio, vďaka podvečernej hodine sme most zažili v romantickej atmosfére s nádherným výhľadom a  zrkadlovou hladinou rieky Arno. Ďalší deň si prešli záhrady Boboli a poobede sa netrpezlivo teda aspoň ja som bola 🙂 vybrali pozrieť  monumentálnu katedrálu Santa Maria del Fiore. Ach jaj sedím v kresle, pijem víno, ktoré sme si priniesli a mám zimomriavky, keď sa na to miesto  v mysli vraciam. Stála som tam a čas sa akoby naozaj zastavil. Niečo tak nádherné, tak veľké a tak čarovné! Najradšej by som si tam sadla a pozerala celé hodiny na každý kúsok tejto katedrály. Natálka teda  len tak sedieť a pozerať hore odmietala, takže sme to aspoň celé naokolo prešli až ku Palazzo Vecchio  a pre mňa krásny pocit, že si to už ona prešla sama po svojich. Neuveriteľne pýšná som na toto naše malé dievčatko, že všetko tak dobre zvláda, že si to tam užívala s nami a že túto dovolenka si už prešla po vlastných 🙂 Všetko tam na vás  dýcha  romantikou a takou pohodovou atmosférou, všetko tam chutí inak … lepšie …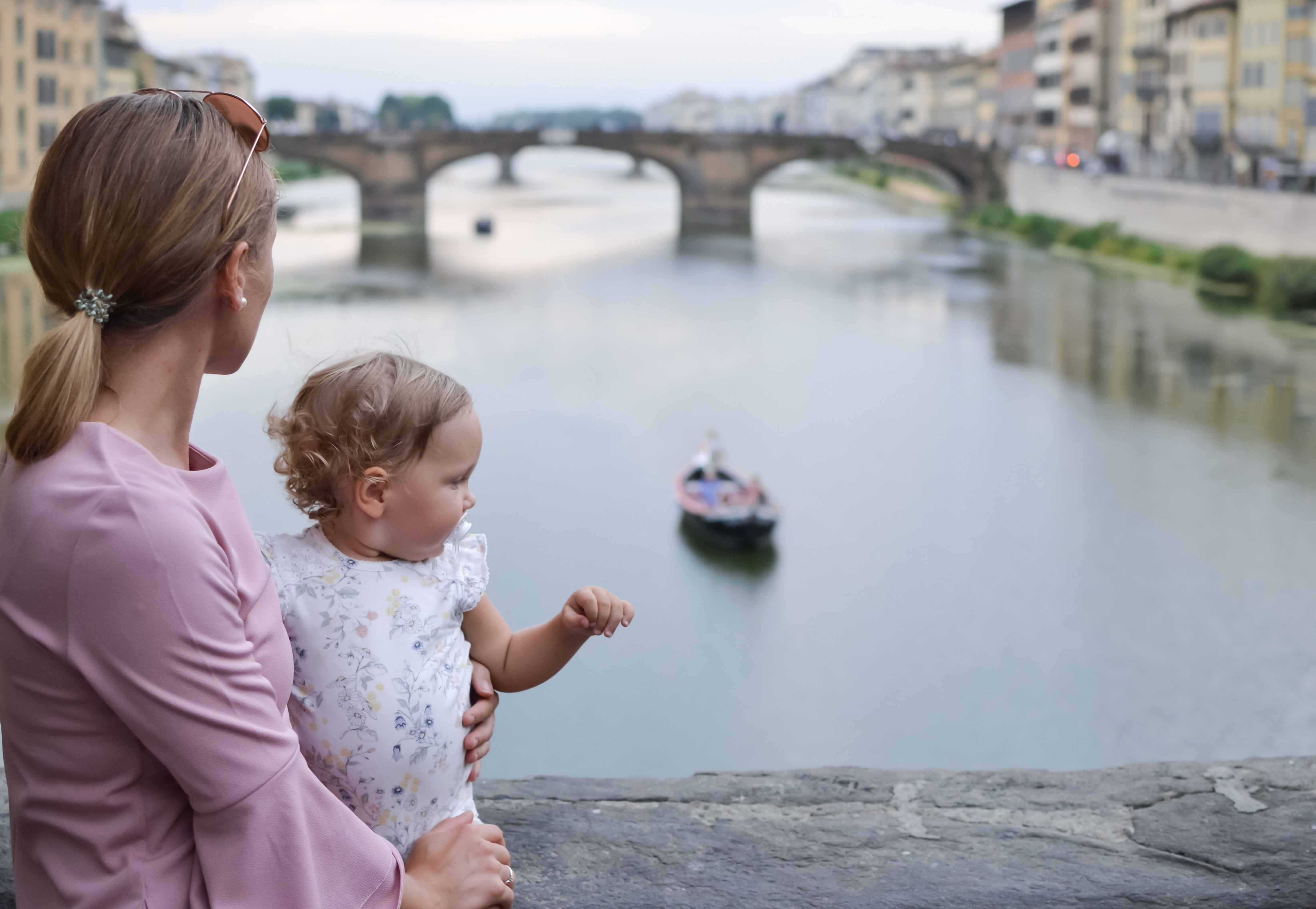 Toskánsko splnilo moje očakávania a úplne ma dostalo. Chcem sa tam ešte niekedy vrátiť, nemusia to byť tie isté miesta, pretože sú tam ďalšie,  ktoré sa oplatí vidieť a zažiť. Proste iba dúfam, že keď som z Florencie odchádzala nebolo potrebné použiť slovo "zbohom" len "dovidenia nabudúce" 🙂
A keby vám počas 7 dní v Taliansku chýbali milované kopce a hory zastavte sa na jazere Garda. My sme tam boli už po druhý krát a zas a znovu jedna veľká nádhera. Ani počasie nebolo dokonalé, povedala by som, že jesenná príprava na nasledujúce dni,  ale ten výhľad a prostredie to vôbec nepokazilo. Celý dojem v nás podčiarkol výborný obed a prechádzka. Poviem vám tam chcem nabudúce stráviť viac dní ako len poobedie. Je to miesto, ktoré si značím do plánovača našej ďalšej dovolenky.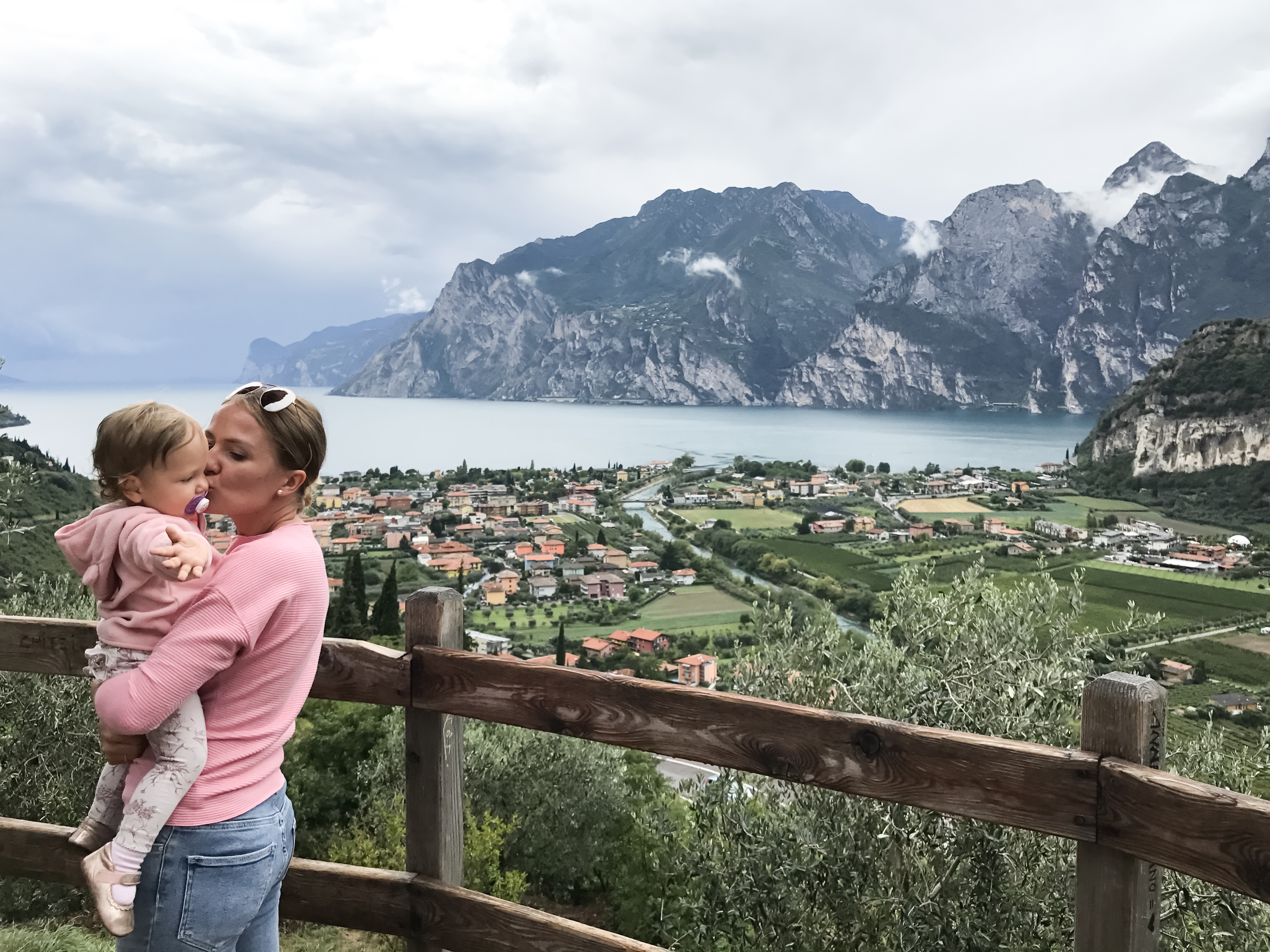 Leto ja za nami a ja na záver s úsmevom na perách, hrejivým pocitom v srdci a spokojná konštatujem, že mám za sebou najkrajšie leto. Naše rodinné leto, ktoré začalo dovolenkou za oceánom a skončilo dovolenkou v Toskánsku. Ďakujem za všetky dni strávené so svojou rodinou, za všetký zážitky s mojim manželom a Natálkou, že sme mohli byť spolu a naplno si toto leto užiť.
Vítam jeseň a teším sa na jej  farebnú krásu a všetko nové čo nás čaká …
Sisi&Nati
---
I was really looking forward to the trip to Tuscany. I love wine, pasta, ice cream and pizza, and this country offers you everything in the best of domestic quality. I was looking forward to the sea, the sun, the vineyards, the old brick towns and, most of all, the wedding under the Tuscan sun, which we were invited to and thank to the invitation we could organize the whole holiday.
As usual, we will not be spending the holiday in only one place and it would be a shame to do so and not to see more and enjoy the beauty of Tuscany. Therefore, I will not be specifying just one place, but I the whole area.
We split the travelling by car into two days and the first night we spent in Lignano Sabbiadoro, enjoying a little bit of sea (especially Natália) and their beautiful boardwalk, carousel and fountain, had some good food, relaxed, and continued on the next day.
Our second stop, already in Tuscany, was the historical town of San Gimignano, which we visited on our friend's advice. Oh, what a beauty I tell you. We had a view of the whole town … I only spread my hand and had it on it in its whole parade. Everywhere vineyards, olive, citrus and fig trees … quiet and beautiful sunset and sunrise … something so beautiful can only be seen in movies and we had the chance to experience it. By the way, San Gimignano is also called the "Italian Manhattan," and has exactly 15 towers. Stone Town, full of tiny restaurants and cafés, and from every corner a narcotic scent of leather and cheese.
The next day, with only a short drive ahead of us, we headed to the wedding venue. The Villa Catignano, where we spent 4 days and had the opportunity to be part of a fairytale wedding of two beautiful people, is such a beautiful and magical place. You do not need anything there, just stand and enjoy … the environment, the view, every bench and tree. The huge villa, which is the adornment of the whole wedding and everything with a romantic wedding under the Tuscan sun connected. Oh, I am still there with my thoughts … can not even get back into reality … I've never experienced anything so nice. The atmosphere, the food, the people, the comfort and the laughter, the friends and the family … I had great expectations and knew it would be wonderful, but that it would be such a memorable memory to me I would never exect. It was our first wedding as a family … Natalie's first wedding … and everything was so beautiful and unforgettable. I am happy and grateful that we could be there and experience such a wonderful wedding in Tuscany.
The town of Siena we have visited during the day. We walked through the aisles (narrow alley ways), where there was always a little bit of shade. Natália first enjoyed a great merry-go-round, than an afternoon nap during which we had lunch and ice cream. We visited Siena's most famous place, Piazza del Campo, known for its annual Palio horse races, than Siena's Cathedral and the dell'Osservanza Basilica. I have a big weakness for their amazing architecture. I am not the kind of tourist who has to see every single monument in detail. I just need to look up and enjoy its beauty. We enjoyed Siena, rested and continued to next stop over, FLORENCIA.
The heart of Tuscany and two nights spent there. Our first steps led the Palazzo Pitti to the famous Ponte Vecchio Bridge, which we thanks to the early evening experienced in a romantic atmosphere with spectacular views and a mirrored surface of the River Arno. The next day we visited Boboli Gardens, went through them and in the afternoon walked with a huge excitement to look at the monumental Santa Maria del Fiore Cathedral. Oh my, I am sitting here in the chair, drinking wine that we brought from there and got the goosebumps only thinking about that place. I stood there and the time seemed to stop for a while. Something so beautiful, so big and so magical! I would love to just sit there for hours and watch the every piece of the cathedral. Natalia was not willing to just sit there and watch, so we both walked all the way to the Palazzo Vecchio, which for me was a beautiful feeling watching my daughter walking on her own. I am incredibly proud of our little girl, that she was so good, enjoying every moment with us and that she "walked" this holiday on her own. Everything there is breathtaking, with a romance feeling and a relaxed atmosphere, everything tastes different…..better…
Tuscany has met my expectations and has completely gotten me. I want to get back there again, it does not have to be the same places, because there are others that are worth seeing and experiencing. I just hope that when I left Florence, it was not necessary to use the word "goodbye", but "see you next time". And if you would miss mountains, you can always make a stopover at Lake Garda (north). We were there for the second time (first time south = no mountains  ) and yet again, what a beautiful peace of earth. Even that the weather was not perfect did not ruin the beautiful view and area. An excellent lunch and a walk underlined the whole impression. I will tell you that I want to spend there more days than just the one afternoon. I am putting this place into my planner for our next vacation. Summer is gone and I, with a smile on my face and a warm feeling in my heart can say at the end that this was my most beautiful summer. Our family summer, which began with the overseas east coast road trip through US and Canada and ended in Tuscany. I am thankful for all the days spent with my family, for all the memories and experiences with my husband and Natalia and that we could be together and fully enjoy this summer. I welcome the autumn and I look forward to her colorful beauty and everything new that is waiting for us …
Sisi and Nati
---